How Much Do Epoxy Floors Cost?
If you've looked into epoxy floor coatings recently, the wide ranges in square foot pricing can seem overwhelming. To help you understand what goes into pricing out an epoxy garage floor, porch, pool deck, or laundry room, this post details some of the main aspects of epoxy estimating. Prices for epoxy coatings vary widely across the industry for many reasons. Our quotes guarantee professional installation by experienced crew members using industry-leading commercial-grade products that often exceed the needs of most residential projects.
Why Are Epoxy Floors A Good Choice?
Our experience with epoxy floor coatings started with large-scale commercial and industrial flooring jobs. Often these industrial jobs specify that facility flooring must be long-lasting (10+ years), easily maintained, and above all else, safe. In most cases, these jobs call for some type of customization; an anti-slip finish, painted lines or walkways, warning signage and logos, or even thermal shock or chemical-resistant epoxy resins. These types of customizations and the variety of specially formulated resins on the market make epoxy floor coatings a top choice for industrial facilities and a popular choice for residential applications. They are also a reason why prices can vary significantly from project to project. A DIY water-based epoxy kit from your local big box hardware store is not the same as a two-part commercial grade epoxy like we use.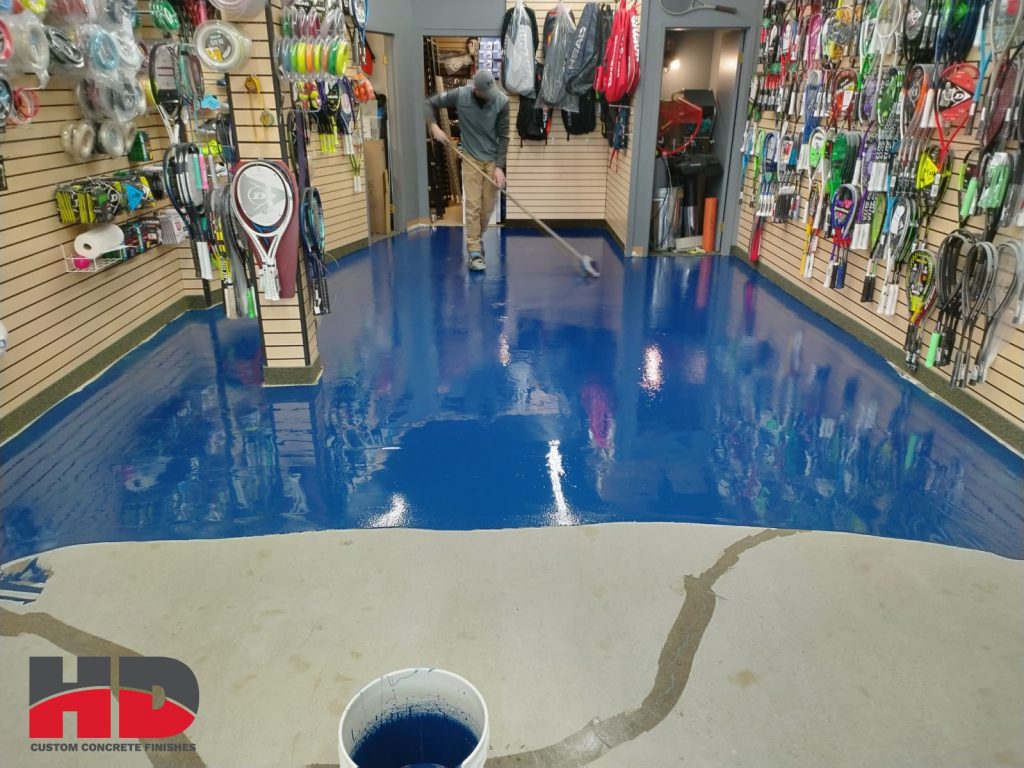 Epoxy Flooring Quotes
A professional quote should include basic information like the square foot price, the materials and the time involved. Generally, the more detailed a quote is, the better. For instance, will a moisture-blocking primer be required? Moisture blocking vapour barriers for epoxy floors are essential whenever moisture is detected. Moisture in the subfloor won't be detected if the installer doesn't test for it. Be sure that whoever provides you with a quote or estimate for an epoxy garage floor tests for moisture in the subfloor. An example of a good estimate might state something like – anti-slip epoxy coating for garage floor. A better quote will include the exact material used – Sikafloor® Duochem-5206 Anti-slip Epoxy Coating for garage floor. A professional quote should also include some type of warranty or guarantee as well. And as with any contractor who will perform work on your property, make sure they are properly insured, bonded, and licensed where required. If they are unable or unwilling to provide this information, it may be best to look for other contractors
Residential Epoxy Flooring
There's no shortage of people happy to charge $5 a square foot for a quick and easy epoxy flooring job. It may be a quick and easy job for the installation crew, but often these cheap floors only cause headaches for homeowners down the road. Unfortunately, our epoxy crews are finding themselves fixing or reinstalling poorly laid epoxy floors more and more frequently. Take some time and research the company estimating your epoxy project. Ask the right questions before the work begins as well. When you find the epoxy installation company you like, ask for some references. Inquire if you can see them for yourself because pictures can only do so much. Seeing is believing. If you like what you see and believe you've been given a fair price for the work, the next step is to book your installation and get ready to enjoy your new floor.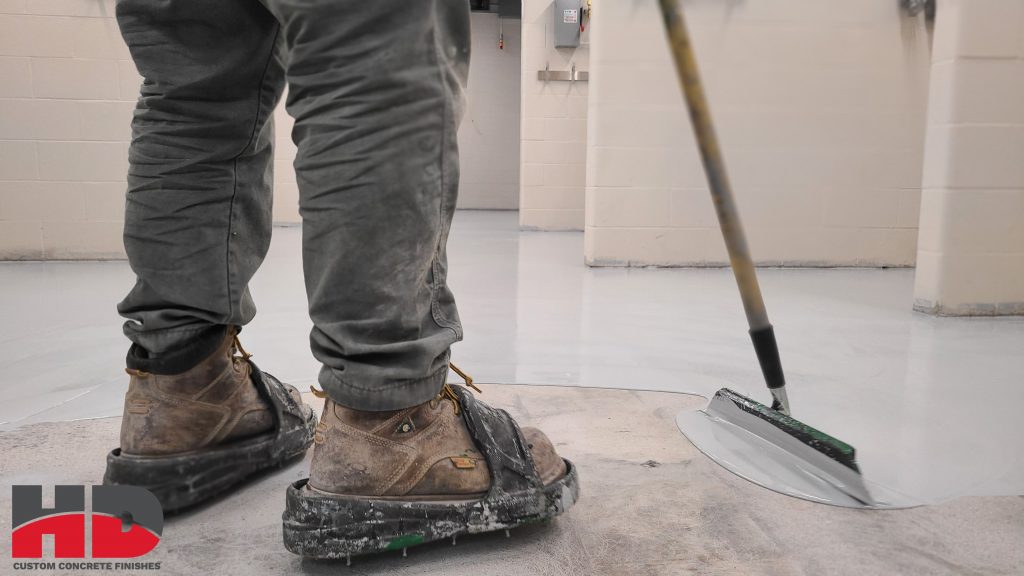 Epoxy Floor Installation Process
The epoxy flooring process is a major component of any quote. Much of the work is done before any epoxy is even mixed or poured. A typical three-step process includes preparing the subfloor, pouring the epoxy layers, and the final finishing. Depending on the finishes selected and the materials being used, step 3 may have a few extra steps, but the process remains essentially the same.
Step 1. Preparation: Preparing the Subfloor for Optimal Adhesion
A professional epoxy installer will always test for moisture with a relative humidity detector. This simple test detects the moisture level in the subfloor and determines if a moisture-blocking vapour barrier is required. Moisture barriers are applied in a liquid form and function similar to the way primers act to paint. They block moisture and provide a better surface for the epoxy to adhere to. Next, the subfloor will be cleaned, repaired, and ground down as needed. Using specialty grinders and high-powered vacuums to remove dust is the first step. Next, any chips, cracks or low spots in the subfloor are repaired. Once the floor has been repaired and ground to a smooth, clean, dust-free finish, the moisture-blocking primer coat is applied if needed. Finally, the epoxy can be mixed, poured, and finished.
Step 2. Mixing and Applying the Epoxy Resin Mixture
Once the floor is prepared and cleaned one final time, the following steps happen quickly. Epoxy mixtures are typically two liquids, resins and hardeners, which can be combined and set to the desired hardness. They are mixed according to the manufacturer's instructions and poured onto the prepared subfloor. Depending on the finish required, while the self-levelling mixture is still wet, aggregates and coloured pigments can be added – or broadcast – into the epoxy mixture. Many custom finishes are available with epoxies, such as metallic and solid colour options and faux stone or wood finishes.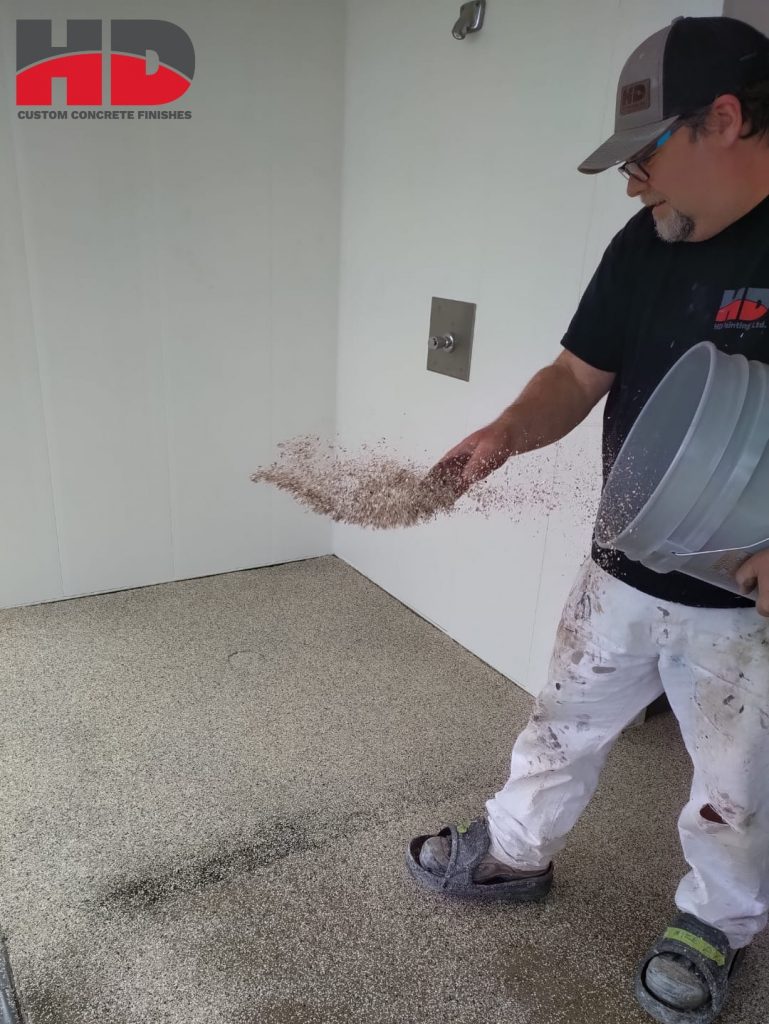 Step 3. Applying Top Coats and Finishing
Once the base layers have fully cured, a professional installer will ensure the floor is seamless and free from any defects or flaws in the epoxy. The finish and top coatings are often quick-curing and provide resistance to tire marking, chemicals, and UV rays. A quick mopping with mild soap and your new epoxy garage floor will be ready for vehicle traffic within 48-72 hours. Although the floor may be hard to the touch and safe to walk on after 24 hours, the resins are still hardening. Any heavy or shifting weight from vehicles or equipment can stress and damage the floor if not allowed to fully cure. Curing times depend on several factors, including the environment (humidity, temperature, etc.), the material used, and how thick it is poured.
Installing An Epoxy Floor The Right Way
If things like testing for moisture are overlooked, it could require that the entire floor be replaced prematurely. Moisture can exist within a concrete long after it has dried. Given its porous composition, concrete is also great at holding water too. Small cracks in the subfloor are also places where moisture can cause issues with epoxy floors, like bubbling, peeling, cracking etc. That is why the first step is so important.
Most of the labour involved in installing an epoxy floor is work that won't be seen when the job is done. Grinding, repairing, and ridding the surface of dust are the first steps to ensuring a properly prepared surface ready for epoxy coating. Often a moisture-blocking vapour barrier is applied next. If this step is skipped (often to lower the bottom-line price) and there is moisture in the subfloor, bubbles, cracks, and heaving can occur within days. This is why it's important to ask the right questions before the work starts. To help, we've come up with a list of questions you may find useful in determining which epoxy installation company you should choose.
Questions to Ask Your Epoxy Installer
Q. Will you be testing for moisture?
A. Moisture tests should always be done for residential applications. Moisture can come from beneath the concrete subfloor and wick, or sweat, out of damp concrete. Unexpected leaks or flooding can also come from beneath a floor. A high-quality, moisture-blocking vapour barrier should be used to mitigate the damage moisture poses to epoxy floor coatings in all but the driest environments.
Q. How thick will you be pouring the epoxy?
A. Epoxy floors can be poured from .250 microns up to 5mm. For garage floors, a thickness of .400 to .600 microns is acceptable. Thicker applications should be considered for any garages that may double as workshops. Thinner epoxy can be damaged by tools dropping or equipment being moved or dragged. Be sure to discuss what you are using the area for with the installer so they can use the best epoxy materials for your needs. For instance, if welding is to be done in the area, it's best to use specialty epoxy floor coatings that can withstand thermal shock and sparks.
Q. What kind of warranty do you provide on your workmanship?
A. This will depend on the contractor, but most companies offer a minimum of a 1-year warranty on their workmanship. Manufacturer product defects are rare, and repairs, or replacement of defective material depends on manufacturer policy. Look for a detailed warranty or guarantee and ask about the specifics of their repair or replacement policies before the work begins.
How Do I Choose An Epoxy Flooring Contractor?
An experienced installer with industry training that uses the best products available for the job is the one that you want. References are a great way to find such an installer. Satisfied customers should be happy to show off their new epoxy floor. A contractor that provides a warranty on their final product is also a good sign they do good work. Don't feel obligated to pick the cheapest quote you get if it doesn't feel right. Ask the right questions and have an idea of what the answers should be.
If you've done your research and are satisfied that they will do a good job, choose the quote that feels right for your project, even if that means paying a little more upfront. Chances are high that the cheapest quote will mean more money spent down the road repairing or replacing a cheaply done job.
HD Custom Concrete Finishes Epoxy Floors
We use top-of-the-line installation equipment and floor grinders and pour our residential epoxy coatings to a commercial-grade thickness. This way we can be certain that the end result will be a high-quality, low-maintenance floor coating that can last a lifetime in residential applications. With all of our residential projects, we use the same industry-leading epoxy products and installation processes that we do at our large-scale commercial epoxy flooring jobs. When properly installed, these materials often exceed the needs of an average homeowner. Other installers may not be as thorough.
HD Custom Concrete Finishes provides seamless, low VOC, chemical, and shock-resistant epoxy flooring solutions that stand up to the harshest environments. We specialize in completing complex projects on time and within budget using the highest quality products available on the market while providing the quality and service you expect from a family-run operation. Call 519.637.0606 or click here to schedule a time to speak with one of our estimators.
20-June-2022 By: HD Painting Contractors Ltd.