VAPOUR BARRIERS FOR EPOXY FLOORING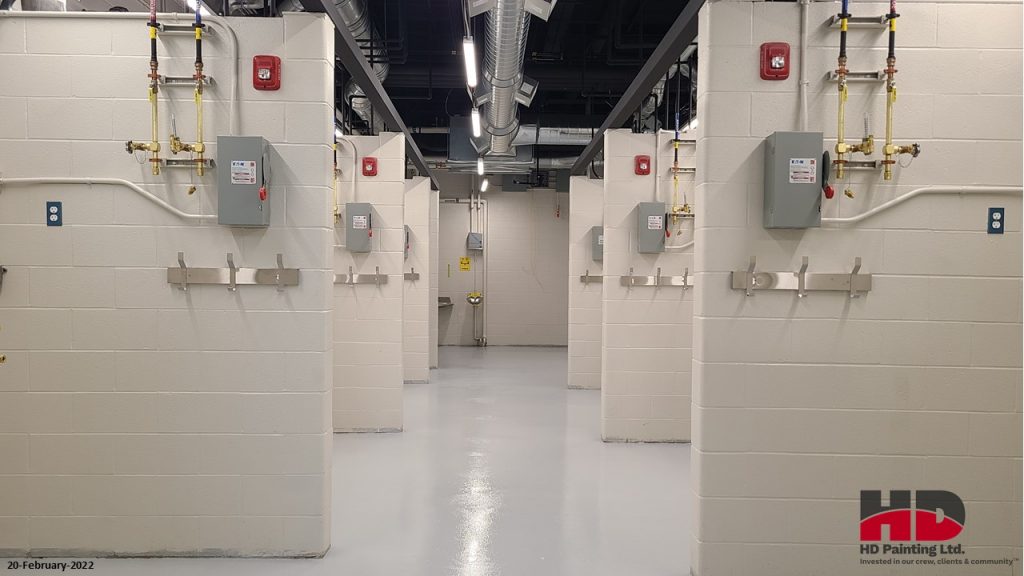 OVERVIEW
Every year Canadians spend far too much money on repairing water-damaged concrete. A flooded basement or severely cracked garage floor slab can mean an insurance claim, expensive repair bills, and in some cases, they can even pose a risk of further damage to the home. Concrete garage floors are common victims of this type of damage given the nature of their use: parking cars, storing heavy loads, swings in temperatures vehicle and regular pedestrian traffic, exposure to oil, salt, and other chemicals, and so on.
EPOXY FLOOR COATINGS, POLISHED CONCRETE, AND WATERPROOFING
While no floor is guaranteed to be 100 percent damage-proof, finished and polished concrete floors have been around for thousands of years not just because of how great they look, but also because they're particularly good at handling environmental stresses and shock. A lot has changed since the concrete floors of Jericho were polished, and epoxy floor systems continue to lead the way in terms of durability and impermeability. Nowadays, adding a unique touch to your basement, porch, pool, or garage floor is quick and easy with epoxy floor coatings that will last a lifetime. Leaks and spills are not uncommon for any floor. However, epoxy floors are particularly well suited for more than just an occasional accidental spill. They are also great for applications where there may be a prolonged presence of water or other liquids. They also excel in terms of slip-resistance, hygiene, and impermeability in high moisture environments like wet rooms, shower rooms, car washes, and commercial food processing plants. This level of impermeability to water is so high that epoxy coatings are perfect for use in and around swimming pools and are often used by some of the top pool installers in Canada.
WHAT DO EPOXY MOISTURE BARRIERS DO?
Moisture blocking epoxy primers and vapor barriers are engineered to penetrate the concrete subfloor and create a solid layer on the surface to reduce vapor emissions to practically nothing. Most epoxy vapor barrier products can be applied in a day and can cure within a few hours. These attributes make epoxy floors the perfect choice for general contractors and new construction projects with tight schedules.
WHAT ARE MOISTURE VAPOR BARRIERS?
Epoxy moisture vapor barriers and primers are a bit like regular paint primers used for residential applications as they get applied to the concrete surface before pouring the epoxy mixture. They assist with adhesion and protect the epoxy from moisture and moisture vapor transmissions. They also stop or reduce the rate moisture can escape from the concrete base slab. The impermeability and reduction in moisture transfer of epoxy floors lessen microbial growth and limits the environmental conditions where mold and mildew thrive from occurring. Couple those characteristics with the natural impermeability of the epoxy coating poured over the top and you have a perfect flooring solution for hospitals and health care facilities, laboratories, kitchens, washrooms, industrial food manufacturing plants, or any other facility where maintaining a high level of cleanliness is essential. They can also be poured and cured with several anti-slip and chemical-resistant protective finishes which only adds to their longevity and durability.
MOISTURE VAPOR TRANSMISSION (MVT)
Another source of moisture, and one often overlooked, is the water that can become trapped inside concrete slabs. This is especially true if the concrete subfloors are found in humid or moisture-rich environments or poured recently. That moisture eventually finds its way through the concrete and to the surface. That can create slippery surfaces and, in some cases, even damage the floor. This is known as moisture vapor transmission or MVT. Excessive moisture emissions in concrete slabs are also a leading cause of damage to epoxy floor coatings but are easily avoidable. Damage from MVT typically happens when a moisture barrier layer is not applied or not applied correctly. Moisture vapor transmissions (MVT) occur when water either leaches out of the concrete through the ground or when there are high humidity levels in the area. Applying an epoxy moisture barrier to the bottom layer of an epoxy floor system acts as a shield, coating and protecting the concrete and epoxy layers from long-term moisture damage.
When epoxy or urethane mixtures get poured on top of concrete slabs containing moisture, that moisture will try to evaporate. This causes the vapor emissions to become trapped between the layers of epoxy. These air pockets between the concrete and epoxy coating layers compromise the structure of the coating and cause bubbling, cracking and may even rupture the epoxy topcoat. As anyone in the construction industry can attest, schedules don't always allow for newly poured concrete to fully dry and cure, especially in wet or humid environments. Excessive moisture conditions can occur under the concrete slab and wick up through the concrete as well. High humidity, condensation, and poor airflow can also lead to similar types of damage.
DO I NEED AN EPOXY MOISTURE BARRIER
Ensuring an epoxy moisture vapor barrier is applied correctly is a simple and reliable step to take to create an impermeable layer. It helps keep both the concrete subfloor and epoxy coating strong and safe for years to come. Depending on the environment and conditions, newly poured concrete slabs may still even contain high moisture when a new flooring option is installed on top. A base layer of moisture vapor barrier provides a chemical barricade between the concrete slab and the chosen epoxy flooring layers, be it colour, flake, quartz, metallic, anti-slip, etc.
Using the best epoxy flooring products available on the market will ensure the best result and epoxy vapor barrier and moisture blocking epoxy primers are no different. Depending on the project, our professionals can apply a range of vapor barriers to suit any concrete subfloor, residential, commercial, or industrial. Whether or not you require a moisture-blocking barrier depends on the specifics of the job and the scope of the work. Waterside properties, garages, laundry rooms, kitchens, and anywhere high humidity is prevalent are all great places to use epoxy floor coatings. Including a vapor barrier base layer will only add to the long-term life and protection they offer.
APPLICATION
Epoxy vapor barriers can be applied at multiple coverage rates and thicknesses. Moisture mitigating solutions are something that our expert project managers will cover in detail when it comes to the specifics of the job. The rate at which it is applied depends on the moisture levels and the moisture vapor transmission control required for each project.
Luckily, epoxy moisture barriers and vapor blocking primers are easy to apply. Once the surface is ground and patched (as needed), it is cleaned and prepared for primer application next. Moisture vapor barriers and vapor blocking primers are applied directly to the concrete subfloor and are an excellent base for all types of flooring, not just epoxy coating systems. Flooring options such as refinished concrete, wood, tile, laminate, vinyl, and even carpet can all benefit from a moisture-blocking base layer.
ARE EPOXY FLOORS HYGIENIC?
Hygienic floors need to be easy to clean and long-lasting. An important factor in that equation involves the floor's impermeability to liquids or its lack of porosity. Luckily, resinous epoxy floor solutions are non-porous and one-hundred percent impermeable. Anti-slip aggregates can also be added to these coatings without compromising porosity. These characteristics of epoxy floors make them a smart choice for facilities where infection control and employee safety are top priorities. These types of epoxy products can be poured at different thicknesses, which extends the floor's lifespan and resistance to wear and shock.
ANTI-SHOCK EPOXY FLOORS
The floors in commercial facilities are no stranger to shock and abuse. Mechanical impacts, abrasion, exposure to chemicals, shocks, heavy loads, shifting pallets and equipment are all examples of the stress industrial floors experience every day. Not to mention, these operations are continually upgrading their facilities and are familiar with having heavy equipment being installed, retrofitted, or moved around. Heavy falling items or dropped tools can lead to cracks or tears in weaker flooring solutions. A good abrasion-proof floor will depend on its thickness and the materials used. Most epoxy floors found in industrial facilities start around 3mm thick but a thickness of 6mm or more is better for high-load areas. Our experts make sure to address these things early in the process so that the facilities or plant management needs are met or exceeded.
CHEMICAL RESISTANCE OF EPOXY FLOORS
Different types of epoxy floor coatings will react differently to different types of chemicals. Most non-corrosive chemicals aren't a problem for epoxy floors, provided the spill is cleaned up correctly as soon as possible. The concentration, type, and how long the floor is exposed to the chemical spill will determine if there will be any damage and to what extent. Selecting the correct type of epoxy coatings in facilities where chemicals, industrial cleaners, and commercial sanitizers are used is an important one to make. Thankfully, it's a step our experts are more than familiar with and happy to help make with clients. We only use industry-leading products from Canada's leading manufacturers and suppliers whose product lines offer a range of specifications and chemical resistances.
The most caustic chemicals always pose the highest risk. Some high-concentration chlorine products used for disinfecting production equipment as well as nitric and phosphoric acids can damage epoxy coatings quickly. Only specific epoxy products can be used in flooring applications where those chemicals are present. Other hazards may include spills and contact with liquids that are part of processing and production plants. Synthetic and organic oils, grease, liquid sugars, animal blood and fat, lactic, citric, and acetic acids, and others are less damaging to the composition of the floor but can pose a slipping risk for employees. Epoxy floors can imbed an anti-slip aggregate within the epoxy mixture to prevent slippery surfaces from occurring while also maintaining their hygienic attributes. It's important to note that even if the relative amounts of these compounds are relatively low, evaporation can increase their concentration and corrosive properties.
THERMAL SHOCK-RESISTANT
Temperatures in a facility can vary widely and that may affect evaporation. For instance, the temperature of a floor near a freezer may range from 0°C to 20°C or higher. The flooring system must be able to function in both conditions. What is more difficult to deal with is thermal shock caused by sudden and large changes in temperatures. This is something that is common for floors in industrial buildings like manufacturing and food processing plants, It's not uncommon for some floors to experience spills of liquids up to 100°C or more and then back again, in a few minutes or even seconds. This is similar to what happens when boiling water is poured over a cold glass – the risk of glass cracking is high.
Thermal shocks can also be caused by high-temperature spills from cooking or the washing and cleaning of industrial equipment after use. They can also occur when hot fluids or water is used to rinse industrial production equipment when it drains onto the floor after cleaning and sterilization. Thermal shock can cause the flooring system to crack and, in some cases even cause the layers to de-laminate. To prevent this from happening, the floor needs to have a proper moisture vapor barrier and epoxy mixture applied to the correct thickness to allow room for expansion. As with shock and impact resistance, the thickness of the floor is also an important aspect to factor in. The top layers of epoxy floors should not be anything less than 9mm thick if exposure to water or chemicals above 90 degrees Celcius is possible.
Another reason more and more contractors are offering epoxy floor coatings is that they can be applied in a wide range of temperatures. Epoxy moisture mitigating solutions are so versatile they can even be applied when humidity levels are at 90 percent or above. Most concrete slabs will only need to cure for five days before the floor coatings or coverings can be applied. Most moisture vapor barrier coatings that we use have a very short curing time as well. Drying or curing can take place in as little as 5 to 10 hours making it ideal for new and fast-tracked construction projects with tight schedules.
MOISTURE BLOCKING PRIMERS AND EPOXY FLOORS
Properly prepared epoxy floors are an investment in a facility's longevity. Long-term maintenance and repair costs can quickly outstrip any savings found in installation costs. Our blog post on the cost comparison between vinyl composite tiles and epoxy floor coatings is just one example of how a low-cost installation isn't always the best long-term solution. A big part of the preparation process depends on the contractor hired to pour the epoxy floor. This is why London and Kitchener-Waterloo's largest operations trust HD Custom Concrete Finishes for their facility's flooring needs. We have a professional project management team and trained installers to complete epoxy flooring projects that meet the flooring needs of facility and plant managers and their budgets.
HD Custom Concrete Finishes provides seamless, low VOC, chemical, and shock-resistant epoxy flooring solutions that stand up to the harshest environments. We specialize in completing complex projects on time and within budget using the highest quality products available on the market while providing the quality and service you expect from a family-run operation. Call 519.637.0606 or click here to schedule a time to speak with one of our estimators.
16-March-2022 By: HD Painting Contractors Ltd.