EPOXY FLOORING VS. VINYL COMPOSITE FLOORING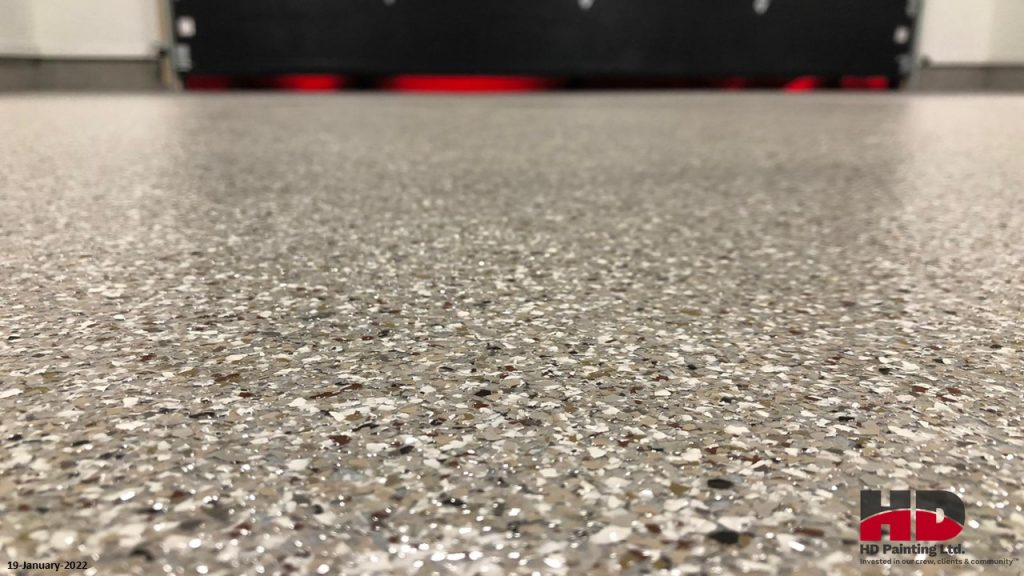 Saving money is always great, but choosing a less expensive option for your flooring needs often leads to poor long-term savings and higher maintenance costs in the future. Selecting a flooring system can seem daunting at first, but taking a few simple steps before making any commitments can help you narrow down your options to ones that fit your needs. Facility managers should do their due diligence in this area. Selecting a cheaper priced flooring option at the start of the project can lead to expensive maintenance and repair bills further down the road. Factors like the environmental conditions (moisture, humidity, temperatures), traffic type (pedestrian, forklifts, vehicles), cleaning frequency (residential, commercial, industrial), and the likelihood of spills and splashes occurring (food, chemicals, debris) must all be taken into consideration. Historically, vinyl flooring options were the go-to choice for industrial, commercial, educational, and medical facilities. That was until epoxy floor coatings started becoming a popular, cheaper, and more customizable option.
Many companies are now looking for longer-life, tailored solutions created to meet the needs of their projects. Anti-slip, shock resistant, non-porous, seamless, options for coved edge moulding, and low or even 0% VOC are all options with epoxy flooring. Those options are just not available with most vinyl flooring solutions and often come with higher long-term maintenance bills attached. Homeowners are also looking at epoxy flooring options to add a custom touch to their garages and basements. In many of these places, epoxy coatings will win every time if it is personalization the client is after.
Epoxy floors are non-toxic, durable, and easy to maintain while being fully customizable. The color options and finishing techniques available for epoxy floor coatings are only limited by your imagination. Why settle for basic finished concrete or plain-looking tiles when you can add a distinct look that shows off your company logo or corporate colours? Have a favorite team or car you love? Why not showcase them with a matching custom garage floor? With epoxy floor coatings, anything is possible.
Read this blog post for a quick rundown of how Epoxy Flooring Solutions compare to Vinyl Composite Tiles for your project and its flooring requirements.
Vinyl Composite Tile vs. Epoxy Flooring
Selecting the best flooring solution might just be the most important decision any organization can make if it wants to minimize maintenance costs and rising material prices ten, fifteen, or even twenty years down the road. All flooring options will eventually wear out, but minimizing the frequency of repairs and replacement costs are a big part of the overall picture. This blog will quickly go over the areas where epoxy flooring options provide the longest-term savings and benefits.
Here at HD Custom Concrete Finishes, we see a lot of flooring projects where the flooring is budgeted as cheaply as possible, usually based on the apparent upfront costs – or sticker shock. Over time, however, VCT (vinyl composite tile) flooring becomes more expensive whenever routine maintenance, repairs, and tile replacement costs are deciding factors. VCT needs to be cleaned and maintained, and that maintenance schedule often means increased labour costs and may even involve closing parts of the operation so the work can be completed. When facilities slack on scheduled maintenance it often puts the lifetime of the flooring material at risk. Depending on the type of facility and how lax the floor maintenance schedule is, it may lead to cross-contamination or unsanitary conditions and could even pose a safety risk to customers or employees.
High-Traffic Areas:
The most common type of damage to vinyl composite flooring is in the high-traffic areas for obvious reasons. Hospitals, educational institutions, commercial/industrial facilities are no strangers to high-traffic areas. Most of the damage we see was caused by everyday wear and tear. Daily operations at these institutions include things like rolling beds and equipment, vehicles traffic, and even wear and tear from moving everyday items like chairs, desks, or tables. These operations are also familiar with their fair share of liquid, chemical, and salt exposure, all of which will impact the lifetime use of vinyl flooring. While flooring like VCT is a less expensive option per square foot, the upkeep, routine cleaning, waxing, and buffing add to long-term costs. Seamless epoxy floors are easier to clean and maintain their performance without the labor and material costs of vinyl tile flooring. Coved epoxy floors also protect toe-kicks, baseboards, and the bottoms of floor-mounted equipment, unlike vinyl flooring options, which require separate pieces of vinyl to be used, creating more seams and places for dirt and debris to hide.
Cafeteria and industrial floors are different, but they are still considered high-traffic areas. This means the requirements for the type of flooring will be different for each application. One of the main advantages of epoxy flooring is that mixtures can be customized to meet the specific needs of a project. So while the options for a high-traffic epoxy floor are more expensive on a quotation than its VCT counterpart, the long-term cost-savings outweigh vinyl every time. An epoxy floor designed for high-traffic areas will always come out ahead of vinyl flooring options in terms of lifetime cost savings and should not be overlooked.
High-Moisture Areas
If condensation from humidity, water, or other liquids comes in contact with vinyl flooring in areas like kitchens, showers, washrooms, laboratories, and warehouses it can lead to expensive repair bills for facilities. The edges and seams of Vinyl Composite Tiles (VCT), luxury vinyl, resilient-vinyl, and sheet vinyl flooring are all prone to liquid damage. That type of localized damage often spreads under the flooring and leads to costly and premature repair work that often requires replacing a larger area. If water-resistant flooring is a requirement of your project, then epoxy floor coating options are preferred. No two concrete slabs are the same. Each has its own unique chemistry and composition. Avoiding adhesion and bonding depends on the curing time, concrete mix, slab placement, subflooring and subsoil, curing time, and finishing techniques used, all of which make selecting the correct moisture vapor barrier an important part of the preparation work.
To establish a lasting bond to the concrete its surface must first be thoroughly cleaned and then ground (or profiled). Repair work and patching also need to be cured and prepped if the epoxy coatings are to permanently bond to the concrete. Epoxy coatings are so versatile that many of them can be used on floors even if moisture is still present within the slab. That makes epoxy floors a great choice for new construction or projects with tight deadlines. Choosing a reputable and experienced concrete finishing and epoxy flooring installer is also crucial. Anyone can mix and pour epoxy on a slab of concrete, but professional installers will start at the beginning of the project and work with their clients to provide a quality epoxy floor that will last for years to come.
Slipping Hazards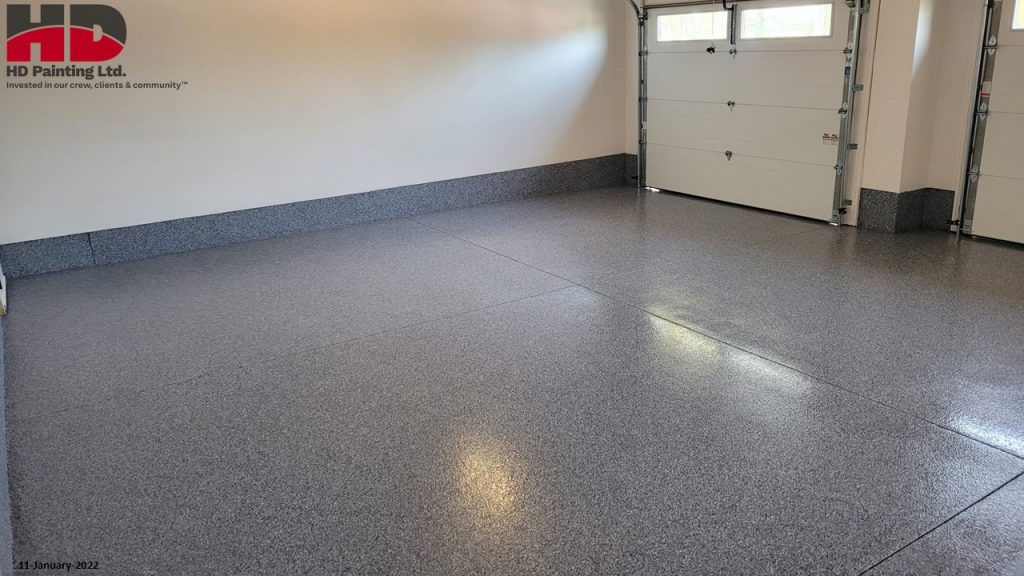 Anti-slip epoxy floors are a popular choice for many commercial food facilities, kitchens, shower rooms, or anywhere water may be present on a regular basis. Slip-resistant epoxy flooring is created by adding a coarse material to the mixture. That material becomes embedded in the epoxy mix, which helps to create a permanent, slip-resistant floor with increased traction, even when wet. Businesses and organizations depend on their clients and employees daily, so protecting them in industrial or commercial facilities is always a top priority.
When it comes to vinyl flooring in temperature-controlled warehouses or grocery stores, epoxy flooring installations can't be compared when it comes to safety, hygiene, and durability.
Since vinyl tiles are not as impermeable as epoxy floors, they aren't ideal for some applications. Entryways, areas near refrigeration equipment, and places that are cleaned and mopped regularly, like cashiers counters and food preparation areas wear out prematurely and often require expensive repairs before other lower traffic areas. That can also create problems where esthetics come into play, as vinyl tiles from different manufacturers often vary in colour and appearance, even within the same lines. Public-facing areas in retail operations, restaurants, or grocery stores may not want a mismatched floor from two different decades and could lead to the replacement of a larger area.
Epoxy resin floors are constructed with performance and durability in mind, even in the harshest conditions. Impact, abrasion, and chemical-resistant, seamless, and easy to clean, epoxy floors are a great choice when looking for long-term costs savings over other flooring solutions. Whether you are looking to cover tens of thousands of square feet in a refrigerated warehouse or just want to refresh the look of your garage floor or laundry room, an epoxy floor solution is a smart investment where long terms savings is a goal.
When considering whether epoxy flooring is within the budget or not, it's important to think beyond the initial cost. Yes, it is comparatively more expensive to install an epoxy floor. However, it will save you and your operation more money in the long term compared to vinyl. Considering the performance, protection, quality, and selection of finishes that epoxy flooring solutions offer, it really is an affordable flooring solution.
HD Custom Concrete Finishes provides seamless, low VOC, chemical, and shock-resistant epoxy flooring solutions that stand up to the harshest environments. We specialize in completing complex projects on time and within budget using the highest quality products available on the market while providing the quality and service you expect from a family-run operation. Call 519.637.0606 or click here to schedule a time to speak with one of our estimators.
16-February-2022 By: HD Painting Contractors Ltd.